LIQUID WASTE REMEDIATION FACILITY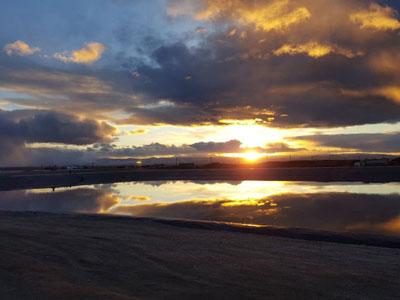 LIQUID WASTE REMEDIATION
L&R remediates received liquid waste through the most environmentally sound method available: solar distillation. Currently the L&R, Kuna, Idaho facility has seven treatment ponds with a total capacity exceeding 60-million gallons. These treatment ponds are used to evaporate the wastewater. Following evaporation, the consolidated solids are collected and treated through composting, bioremediation, or landfill.
All liquid waste is profiled before acceptance, then unloaded into one of our seven different treatment ponds. This is where the solar distillation is performed.
---
Wastewater


Fuel Contaminated Water


Grease Trap Waste


Sand Trap Waste


Car Wash Sumps


Production Water from Drilling and Manufacturing Operations


Wastewater from Micro Chip Production


Neutralized Acids


Saltwater
Dairy Products


Yogurt


Sour Cream


Ice Cream


Milk


Cottage Cheese


Whey Sludge


Cheese Desludging
Beverage Waste


Orange Juice


Soda


Pop Syrup


Brewers' Yeast


Wine


Beer


Bottled water


Vegetable and Fruit Juice
Food Wastewater


Sugar Beet Wastewater


Potato and Onion Package Water


Peanut Butter


Molasses


Chocolate


Blanch Water


Bean Wash Water

Vegetable

IF YOUR WASTE IS NOT LISTED PLEASE GIVE US A CALL!
We can handle all your waste disposal needs.