 EXPIERENCE OUR UNMATCHED SERVICE!
Our fleet of modern equipment will pump out liquid, sludge and solids at your facilities, while ensuring proper disposal of your waste at our disposal facility. Our team of professionals will pickup and dispose of your liquids, high solids, oily water, or sludge from virtually anywhere including oil/water separators, clarifiers, sumps, trenches, pits, floor drains, and even underground waste tanks.
EXPERTS IN OUR FIELD
Our service professionals are trained on the job allowing them to deliver expert service that is unmatched in the industry.
We offer regularly-scheduled service that you can rely on, as well as unscheduled and emergency services for those
unexpected events.
At every service we will:
• Safely remove all liquid, sludge, and solids
• Thoroughly clean any trenches leading to separators, pits, drains, sumps and other locations
• Dispose of your waste at our own facility in compliance with all local, state, and federal regulations
Let L&R inspect and service your separators and rest assured that everything is handled professionally. At every service call,
we will pull and retain a sample to help protect you from compliance problems. Additionally, your waste will always be
disposed of in compliance with all local, state, and federal regulations.
---
Our Vacuum Services Cover:
Oil Water Separator Service

Drain, Sump, Pit and Trench Cleanout

Sand Trap / Grit Trap Service

Tank Pumping (Holding Tanks, Underground Waste Tanks)

Spill Cleanup


Process Water Disposal


Sewer Water Drains


Non-Hazardous Liquids and Sludge Disposal


Catch & Drainage Basins


Overflowing Storm Systems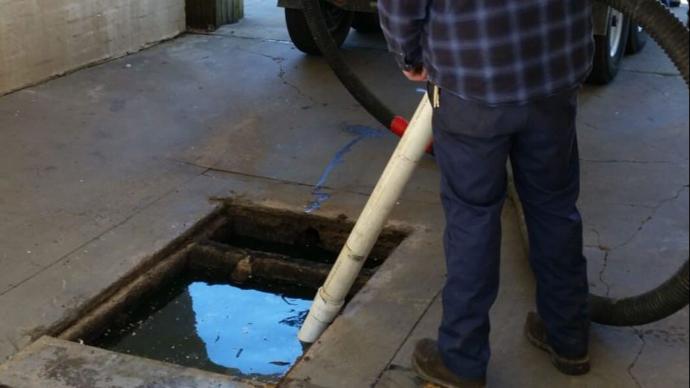 Oil Water Separator

L&R's fleet of, high capacity vacuum trucks feature 4000+ gallon tanks and industrial grade vacuum pumps. Our team will completely empty your separators, and pressure wash them

---